【Protect children】: Did you know sharp edges on furniture can cause nasty injuries for children? Baby bumpers edge guard can absorb impact and protect your child from sharp edges and corners, our cushioned foam for safer impact where babies need it most
【A must-have safety product】: 19.68 feet(6meters)edge cushion, Apply on glass tables, beds, kitchen units, desk, bedroom furniture and more, The viscosity of the corner protector is very strong and the corner bumpers can be used on all surfaces steel, wood, glass and ceramic etc, Protect your family from injury when falling
【Install easily】: We use the latest advanced tape that will provide awesome coverage, easy installation and fit corners of most sizes and shapes, Simply measure the desired length, cut to size and adhere the foam into place, without damaging the furniture
【High quality material】: Foam safety bumpers use super soft and high density foam material, and genuie 3M double-sided tape, no BPA, no phthalates, no heavy metals, With flame-resistant foam, The safe rubber bumper guard is eco-friendly which guarantees babies' safety
【Free gift and 100% money back warranty】: Free Finger hand safety door stop guard that will protect your family' s fingers and toes from slamming doors, and If you have any dissatisfaction toward our products, we will replace your product or give your money back, You will be completely satisfied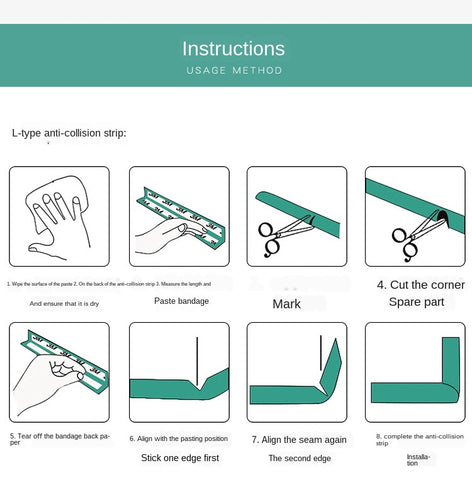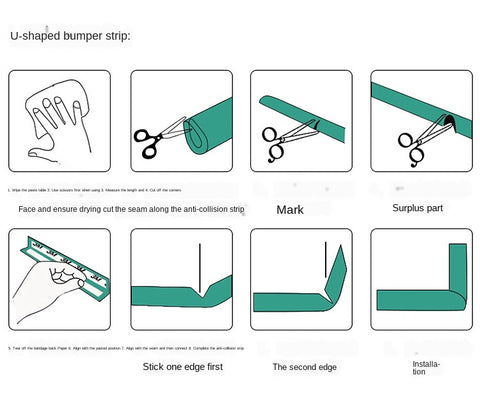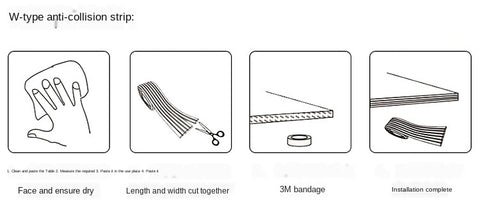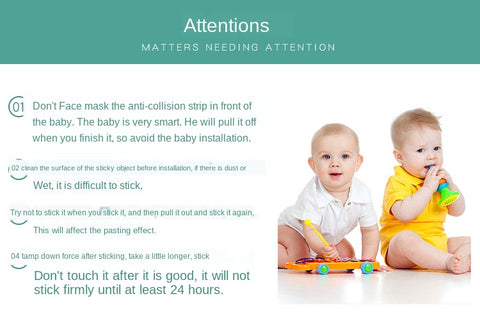 Used to protect toddler grandson from very sharp hearth and brick in front of fireplace. I had been using pipe insulation which did a good job protecting, but looked a bit tacky for the long haul. It is a bit tedious to place the tape strips on the long edging pieces but they seem to be holding well. The color blends well with our brick and it looks much like nice trim. The corners make the job look very finished. Time will tell about durability, but it has stood up to a busy 20+ pound guy pulling himself up and cruising along the hearth on several occasions. That's a good start. It definitely softens a dangerous hazard in our home.
I have a glass top coffee table with very ,very sharp edges. Recently someone in my family actually scraped their leg against one of the edges and it started to bleed that was it, we immediately bought this bumper. My daughter had the same one when her children were toddlers and recommended it. It is absolutely perfect. It is thick ,wide and most of all very cushiony. Easy to apply. It adheres beautifully. Once it's in place it does not move. You can sit on the couch put your feet on the bumper and it will not budge.
A perfect solution to protect an adults leg or a baby's head. . You get 4 nice big corner pieces which are separate. No one is going to bump into that table and hurt themselves
It definitely gives you a sense of security. Of all the bumpers this is most definitely the best!!!!
Worked better than expected. We used it for a rough stone edge on our fireplace. We used a strip for the top edge and one directly below it for the bottom edge. The material is thick and cushiony. Stays on reasonably well. Tips: 1) Cut a little extra when measuring. We discovered that you can end up a little short depending on how much you stretch the material during measuring versus final application. 2) Does not reapply well. If you attempt to reposition it, it may not stick.
Worked great for our purposes and looks polished (and doesn't scream "babyproofed").
Picture shows my baby exploring while we were half way through installing the edging.
Exactly what we needed. Our new kitchen cabinets have a sharp corner just about adult forehead level. After bumping our heads a few times, I found these on Amazon. They do the trick. They cover the sharp edge & protect us from seriously injuring ourselves.
The only suggestion that I would have is to put a tiny pull tab to make removing the tape from the sticky side easier.
I'm not sure if anyone has thought of using this for a desk application, but I did and and very happy with my decision. Just recently built a desk. The desktop I made from plywood, stained, and seal it. I was trying to figure out what to do about the edge of the desk. I came across this and figured i would give it a try. This added a bit of cushioning to rest my arm on which I liked. It was super easy to apply as well. I would recommend two people to install in order to keep it neat, but one person can still do it as well. It blends in with my desk as well, so it's hardly noticeable.