Perfect Size for Toddlers and Kids: 8 OZ capacity fit for the small little hands people. Double-wall vacuum insulation, keeps beverages cold or piping hot longer. For Mom to change their kiddo's sippy cup. . 
 Convenient smaller size ideal for kids
Durable 18/8 Pro-Grade Stainless Steel construction

BPA-Free and Phthalate-Free

Unique powder coat for non-slip grip

Lifetime Warranty
Durable
All products are made with 18/8 professional food-grade stainless steel – a metal recognized for its strength and purity. The food-grade material also protects against flavor transfer, so today's coconut water won't taste like yesterday's  drink.
Insulation Innovation
Used in every Colorful PoPo made, TempShield is the double wall, vacuum insulated technology that guards the temperature of your drink. Bring ice water with you in the morning, and we promise you'll still have ice in the afternoon. There is also no condensation or heat transfer to the outside of the bottle, ever. 
Easy Grip, No Slip
NO CHIPPING OR PEELING: Each unbreakable toddler cup is powder-coated so won't chip, peel or melt; 18/8 stainless steel strong stainless steel construction, BPA Free, Safe, Solid, Unbreakable, Reusable and Eco-friendly..
Silicone Straw: SAFE for All Ages Due to Soft, Non Teeth Chipping Silicone Construction. Soft to Bite Down On, But Durable Enough to Resist Tears. Also great for smoothies.
Slider Lid: Made with top food grade crystal clear plastic - It's eco-friendly, non-toxic materials, BPA free and straw friendly. Easy to clean, suggest hand wash the cup and lid.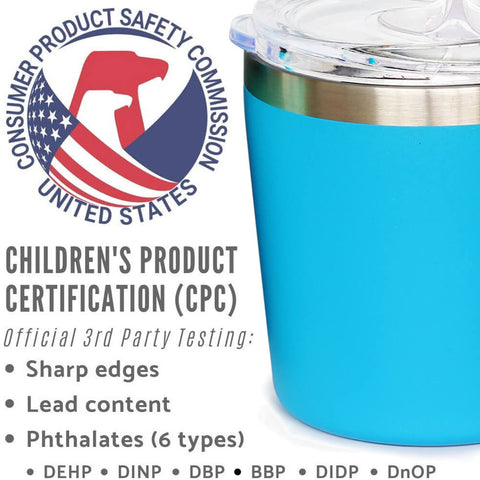 CHILDREN'S PRODUCT CERTIFICATE (CPC)
CHILDREN'S PRODUCT CERTIFICATE (CPC)
Test by CPSC accredited laboratory
Nice cups
These are the perfect size for my toddler. The product seems very sturdy and does keep the beverage cold. I like the option to use it with or without the straw.
Perfect for little hands
My little mini loves that she has a cup to match moms. I absolutely love the colors. They're easy to clean and super durable for our little farm girl! Will definitely be ordering more.
Perfect Cup for Baby
We got he 2 pack stainless steel cups and straws and they are great for our toddler. They are perfect for her little hands to pick up by herself. I wouldn't recommend these if your little one is tiny and a huge thrower, as they would leak. But for older toddlers (our daughter is 2), they are great.
So glad to find a metal cup with a lid and straw option for kids. I was tired of replacing plastic cups from my kid biting on the straws. Love the color options as well. Seems well constructed. Haven't used yet.
Sometimes we have trouble getting my 4 year old to drink enough water during the day. She loves this cup and drinks plenty out of it. Love that these cups are safe and eco friendly. Very cute and durable design is also a plus! Customer service was great. They kept me up to date about my order the whole time and were there to answer any question about the product. Will be ordering more in the future! ??