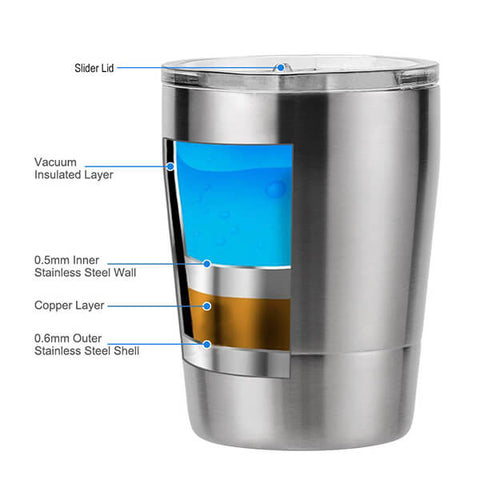 High Quality Food Grade 18/8 Stainless Steel. Vacuum Insulated Double Wall Design Keep Drinkings Hot Or Cold For Hours. BPA Free,Safe,Solid,Unbreakable,Reusable,Dishwasher-safe And Eco-friendly.
Tritan BPA Free Easy Cleaning Lids Work Great With Cups And Silicone Straws. Suggest Handwashing For Lids And DO NOT Put In Microwave/Microwave/Freezer.
Rich Colorful Silicone Smoothie Straws(colors maybe vary) Just the Right Size, SAFE For All Ages Due to Soft, Non Teeth Chipping Silicone Construction. Soft To Bite Down On, But Durable Enough To Resist Tears.

CHILDREN'S PRODUCT CERTIFICATE (CPC)

CHILDREN'S PRODUCT CERTIFICATE (CPC)

Test by CPSC accredited laboratory
Perfect size for small hands and good quality
Such a great size for my 4 year old. Didn't realize how small it was, but it is definitely perfect for toddlers and young school age kids. The usual ones are so wide and heavy, but these are perfect. We bought 4 of them and they are perfect for keeping drinks cold and sturdy enough for my wild boys. The straws are rubber so they are much easier to clean. It is not leak proof on the top, but doesn't spill out of the sides of the top. So it wouldn't give big spills if it falls over. Looks like great quality. Planning on buying a couple of the 12 oz ones for my 9 year old. Just waiting for more colors to be in stock.
I needed a cup for morning smoothies on the go that do not leak, hold a perfect amount of smoothie that can and actually will be consumed by my 4 and 7 year olds and that is easy for them to hold. This fit the bill. The lid is very secure and haven't had one accident yet. The wide straw is great and easy to drink from allowing even my thickest concoctions to pass through. My kids love how easily it fits in their little hands and they fit great in car seat/booster seat cup holders. Such a great find. Thank you to one of my favorite bloggers, Liz Adams for recommending!
We love these cups. Our kids use them daily. Glad we made the purchase. They have held up great, since they are made of stainless steel.
I got these for my son hes only 4 so it dont matter to him but i love them. easy to clean help keep his drinks cold longer. The straw that comes with them im not to big on so i just use normal straws, other than that there great cups.
My 7 year old and my 4 year old use this cup at every meal..as they tend to spill normal drinking cups.